In ShiftController Pro administrators and staff members can easily add their notes and comments about shifts and timeoffs.
The administrator can view, edit and delete any comment. Also the admin can choose the access permission for every note she creates:
Everyone - everyone including your site visitors on the Everyone Schedule pages will see these
All Staff - every employee will see this note in their Pick Up or Everyone Schedule pages
Owner - the note is visible to the employee who works this shift
Admin - only admins and managers will see such notes

The comments will be visible in the shift schedule calendar.

As well as in the shift detailed view.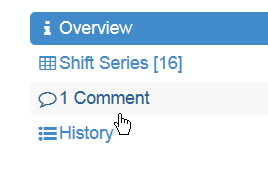 The shift comments are also sent in the notification emails.