With this feature you can create additional fields to keep custom information about your shifts.
Custom fields are configured per calendar that allows you to have different information for various kinds of work.
How It Works
Create a new custom field for shifts in a certain calendar.
Configure its visibility and access permissions.
Create New Custom Field
Go to Administration > Calendars, choose a calendar, then click Custom Fields.
Click Add New.
You will be able to specify the new custom field type (Text, Textarea, Drop Down, Radio, Checkbox), its label and several options that configure who can view and edit this field.
For example, you can create a field labeled as Employee Comments and make it editable by the shift employee, so they will be able to post comments about their shifts. But neither other employees no visitors will be able to see this information.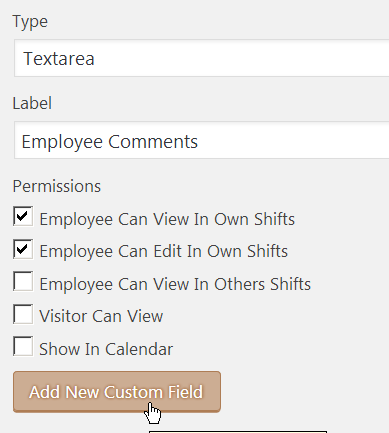 If you tick the Show In Calendar option, this field will be also displayed in the shifts calendar and list views so it's useful for short information for quick review. Otherwise the field content will be displayed in the shift detailed view.
Use Custom Fields
After you create a new custom field, it'll get displayed when you view, create or edit shifts in this calendar. If the field is editable (for admins, or for employees if it's allowed), the edit form will appear. For view-only fields its content will be displayed.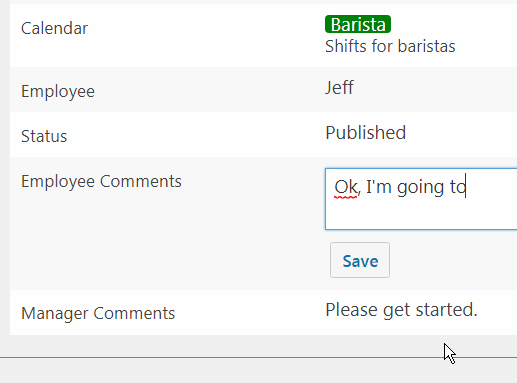 If you configure the field to be displayed in the schedule view, it'll look like this: